The Original 'Quik Tees'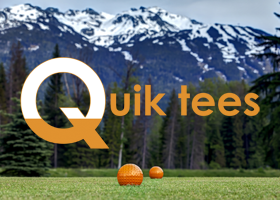 GolfBC's Orange Tees help make golf more accessible and fun!
The GolfBC Quik Tees offer an opportunity for golfers to play a championship golf course at approximately 3,000 yards. Quik tees help make golf more accessible and fun!
who? why? when?
junior or senior golfers looking for a shorter layout
beginner golfers learning the game
families looking to enjoy the game together
avid golfers looking for a different challenge
golfers wanting to practice their short game
golfers looking to play a quick twilight round
Participating Golf Courses: Nicklaus North, Mayfair Lakes, The Okanagan GC, Gallagher's Canyon, and Olympic View!
There are no green fee discounts when playing Quik tees however juniors can take advantage of our Kids Play Free at GolfBC promotion when playing with a paid adult. Contact golf course for select tee times or click here.
Back to Special Offers