New Product Arriving Daily!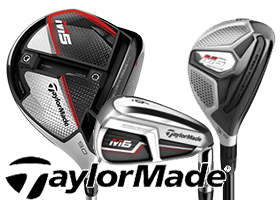 Our Golf Shop at Gallagher's Canyon is filling up quickly with the latest and greatest 2019 equipment...
Gear up with the "Best of the Best" this season...
Find the finest TaylorMade has to offer, including
M5 and M6 Drivers, Fairway Woods, Rescues, Irons, Wedges
"First, we twisted the face. Now, we've injected it. Speed Injected Twist Face features a revolutionary new process of calibrating every individual head to the threshold of the legal speed limit"
P700 Series Irons
GAPR
featuring "SpeedFoam" technology
PLUS, Putters, Wedges, and Golf Bags
Fitting Cart available now! Contact the golf shop to book your fitting with a PGA of Canada Professional: 250-861-4240
In addition to our extensive TaylorMade lineup, we will also be carrying PING's revolutionary G410 Driver! For those golfers who have played with the G400 series in 2018; just wait until you get your hands on this year's enhanced and improved model. While you're at it, don't forget to pick up a new PING golf bag, both carry and cart bags available in a variety of styles and colours.
Look Good. Feel Good. Play Good.
New to Gallagher's Canyon this season will be Travis Mathew apparel. We are excited to offer their collection of innovative fashion pieces, from polo's to headwear. Visit the shop to have a look and (more importantly) feel this new product.
Every year Adidas launches new fashion pieces in to their brand, and 2019 is no exception! We will be carrying the latest in both Men's and Women's apparel and footwear. Sport the brand that most professionals wear and love; look like a pro, play like a pro!
FootJoy is known for their class and quality. Add a touch of class to your golf game with the latest apparel, footwear, and gloves this season; we invite you to come try on the merchandise and feel the quality.
After a successful 2018 season, IBKUL is without a doubt returning to the Gallagher's Canyon golf shop! Due to their multi-functional (and stylish) apparel, IBKUL is quickly becoming one of the fastest growing brands in golf.
In addition to these featured brands and products, our 2019 golf shop will continue to carry popular brands such as Greg Norman, Tail, Nivo, and many more! We look forward to helping you play, look, and feel the best you can on our fairways this season!
Gallagher's Canyon Golf Shop Hours:
In Season: 6am-8pm, daily
Off Season: 9am-3pm, Monday-Friday
Back to Special Offers